Just this last Thursday, I helped my cousin to make a pirate cake.  We used colored fondant kits to help make the pirates for the cake.  Here is some pictures of the fun adventure of making a pirate cake.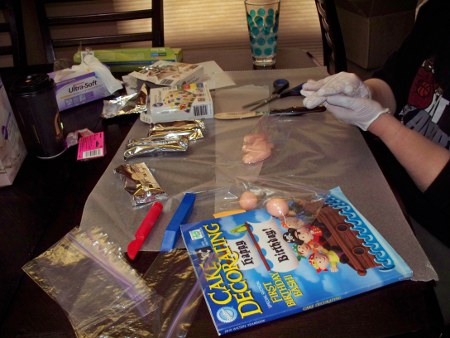 My cousin forming the fondant to make heads and arms.  The fondant
was put in sealed bags so that they would not dry out so quickly.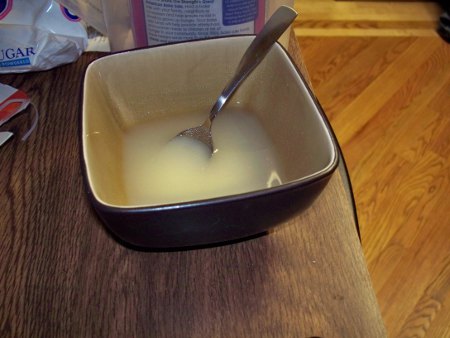 I made up a light sugar water base to dab on the cake to keep the cake from
cracking.  The sugar base was made of simply water and sugar.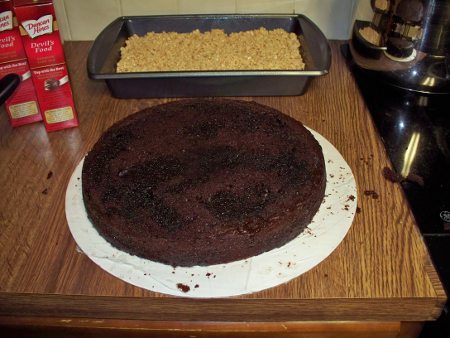 Here is the bottom part of the cake after the top part was cut off with a Wilton Cake Leveler
.   The sugar water base was applied to the cake to keep it from cracking.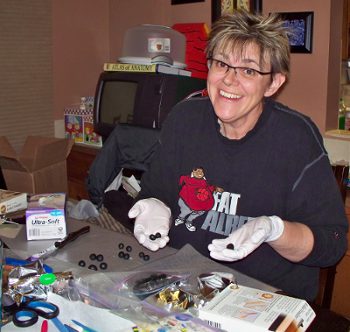 Cindy, my cousin, is pictured here making the fondant legs for the pirates.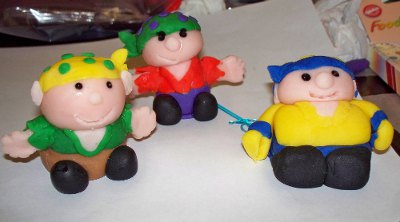 With some extra help, the pirate characters got more detailed with practice.  Melissa was the one who we can give the most credit to for making the most detailed and cutest fondant pirate characters.  Check out the excellent pirate below.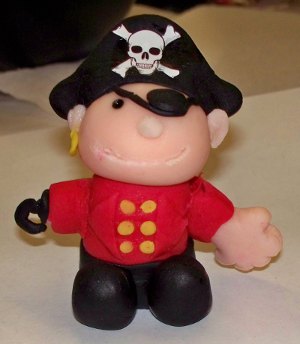 The finished fondant pirate character.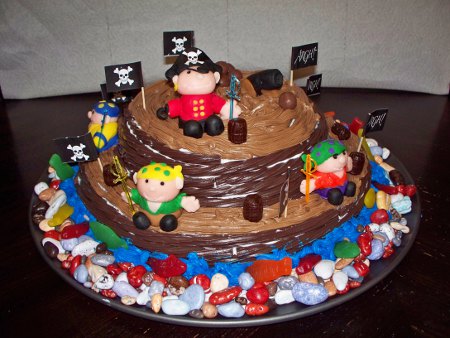 The finished cake.  There is chocolate licorice around the sides to represent a boat.  Candy rocks, gummy fish, and blue icing were put around the bottom part of the cake to represent the boat near water.  A cannon was made out of fondant to put on top of the cake.  Malt balls were put near the cannon to represent cannon balls.  Barrell shaped rootbeer candies were placed throughout the cake to look like barrells.
Disclosure Policy:

This policy is valid from 18 February 2010: This blog is a personal blog written and edited by me. For questions about this blog, please contact me at the Contact Me link. This blog accepts forms of cash advertising, sponsorship, paid insertions or other forms of compensation. The compensation received may influence the advertising content, topics or posts made in this blog. That content, advertising space or post may not always be identified as paid or sponsored content. The owner(s) of this blog is compensated to provide opinion on products, services, websites and various other topics. Even though the owner(s) of this blog receives compensation for our posts or advertisements, we always give our honest opinions, findings, beliefs, or experiences on those topics or products. The views and opinions expressed on this blog are purely the bloggers' own. Any product claim, statistic, quote or other representation about a product or service should be verified with the manufacturer, provider or party in question. This blog does contain content which might present a conflict of interest. This content may not always be identified. To get your own policy, go to http://www.disclosurepolicy.org.

AllenDavisBlog.com is a participant in the Amazon Services LLC Associates Program, an affiliate advertising program designed to provide a means for sites to earn advertising fees by advertising and linking to amazon.com, endless.com or smallparts.com.